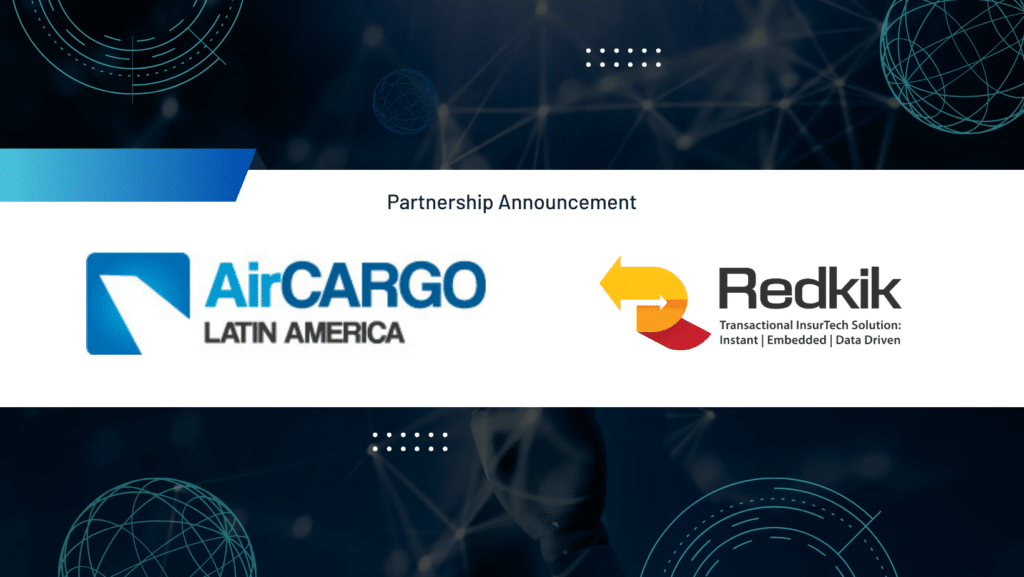 Oxford, MD, September 7, 2023 - Redkik, a global software company with the mission to simplify and improve the supply chain with technology, today announced its partnership with Air Cargo Latin America.
Redkik joined forces with aircargolatinamerica.com to expand its visibility and access in the Latin American Market. Thanks to this agreement, in less than two minutes and on a transactional basis, anyone needing coverage in the supply chain can now quote and acquire international insurance to cover their international shipments, either by air, road or sea, at a very competitive rate.
Redkik´s platform is easy to use and logistics players can access leading and reliable insurance covers without any hidden requirements. Upon completion of the transaction the insured party will receive an email with the certificate of insurance (COI) and additional helpful information.
Marcelo Ricciardulli, Managing Director at Air Cargo Latin America LLC, said: "We really appreciate Redkik's confidence in Air Cargo Latin America as a vehicle to expand its visibility and presence in the Latin American market. We will do our best effort to honor this commitment, taking an active role in promoting this service among the international cargo community. Since long ago we were looking to offer added value services, other than keeping our audience informed on the latest news of the industry, and we think that by making international insurance available through Redkik´s technology contributes to this objective."
Chris Kalinski, CEO and founder of Redkik, added: "Latin America is a growing area of business for Redkik and partnering with Air Cargo Latin America allows to make our technology available to a large audience. We are very excited to assist Air Cargo Latin America to offer an additional service to its users and are looking forward to a long-term collaboration."
This new service offered through Air Cargo Latin America is available to freight forwarders, importers, exporters, customs brokers, carriers (by air, sea and land) and any other person or organization involved in the international transportation of merchandise. To access this service, please click on this LINK. For more information and/or DEMOs request, please contact us at redkik@aircargolatinamerica.com.
Born of personal industry experiences, Redkik provides a global InsurTech solution curated with the mission to transform and improve the insurance industry for all parties within logistics and transportation. Through Redkik's easily embedded integration, the acquisition of appropriate cargo insurance has never been easier. Instant COIs at time of booking coupled with administrative, financial, and claims assistance take the time and guesswork out of insurance and provide peace of mind.
AIR CARGO LATIN AMERICA, is the first digital media dedicated exclusively to the air cargo transport industry in Latin America, and of interests for Freight Forwarders, Importers, Exporters, Airlines, Customs Agents and any person, company or organization related to this mode of transport.
Contacts: info@aircargolatinamerica.com
PRESS INQUIRIES
Contact Redkik in USA
Founder & CEO
chris.kalinski@redkik.com