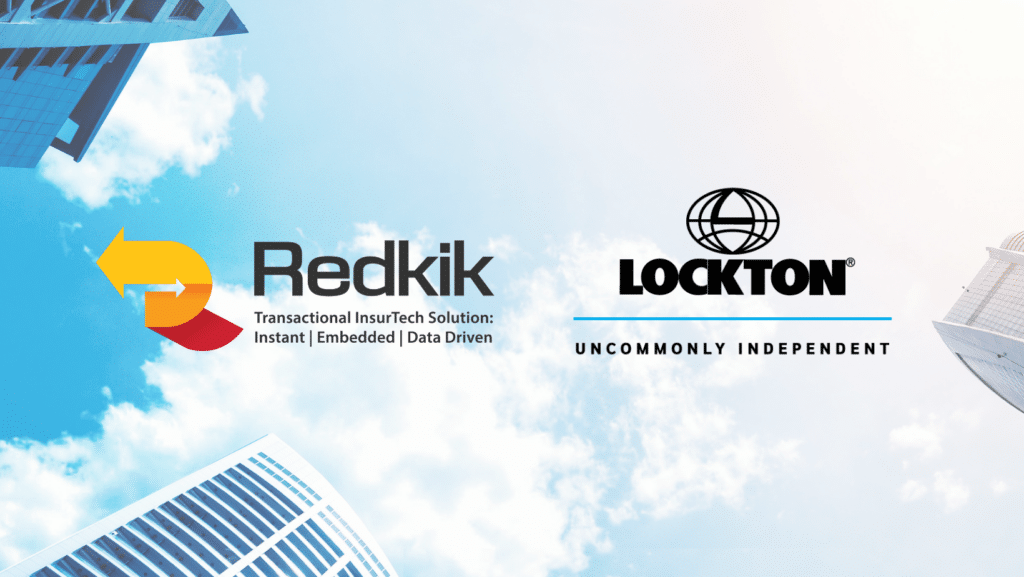 Oxford, MD October 10, 2023 – Redkik, a technology company with the mission to simplify and enhance the insurance industry, is excited to announce a strategic partnership with Lockton Companies, a global leader in insurance and risk management. This collaboration marks a significant milestone for both companies as they join forces to revolutionize the way you acquire and manage cargo insurance. 
Cargo insurance has been full of headaches and hidden costs for years. Even recent technology platforms intended to simplify cargo insurance require users who understand details like rates and commodities.
The Redkik platform uses intelligence and machine learning to present an intuitive interface which allows anyone, including your customers, to arrange coverage. Supported by Lockton's insurance placements, the Redkik platform embeds transaction details and seamlessly integrates with your systems.
Redkik also offers a claim portal which makes filing a claim simple and automatic. No more guessing about the information or documents needed. The portal easily guides the user through the process. No more angry customers or payment delays.
Your program conversion will skyrocket. Your customers' satisfaction, and your margin, will grow.
Spend a few minutes to see a demo of the best cargo platform in the business, and watch as Redkik grows to include other necessary insurance products like vehicle physical damage or excess motor truck cargo liability. The future is here.

Redkik's mission is to streamline the risk and insurance process, and by so doing to encourage supply chain innovation. Its integrated solution offers instant documentation (such as Certificates of Insurance – COIs) at the time of booking, complemented by comprehensive analytical, administrative, financial, and claims support.
Redkik's solution delivers efficient and accurate administration, actionable risk insights, dynamic "cost-of-risk" pricing models and reliable, responsive service. 
Lockton Companies is the world's largest privately held risk management advisor and insurance broker. Lockton is helping Redkik's efforts to transform the transportation insurance landscape. The partnership gives Redkik access to insurance programs and relationships that empower Redkik's solutions for "embedded" or transactional insurance products. Lockton Companies also delivers claim support and risk control services specifically tailored to the transportation industry. 
"We are very excited about our partnership with Lockton Companies," said Chris Kalinski, CEO and Founder of Redkik. "This collaboration brings together the innovative capabilities of Redkik and the global experience and resources of Lockton Companies. Together, we are set to redefine the cargo insurance ecosystem, providing unmatched value to clients and stakeholders."

The partnership between Redkik and Lockton Companies underscores a shared commitment to delivering excellence in the transportation insurance sector. Both companies combine strengths and drive innovation, efficiency, and security in an industry vital to global trade and commerce.

"The world – insurance, transportation, technology – is changing by the minute. We are privileged to be associated with such a strong agent for change in transportation and supply chain risk management. This is a significant step forward in enhancing the insurance experience for cargo industry participants," commented Ben Morgan at Lockton Companies. "Lockton is proud to work with Redkik in our mission to simplify and improve embedded insurance processes. Together, we aim to create lasting value for our clients and to contribute to the continued growth and success of the transportation industry." 
Redkik is a trailblazing global software company, on a mission to streamline and enhance the insurance industry within the logistics and transportation sectors. Through leveraging advanced artificial intelligence and machine learning, Redkik's proprietary technology produces instantaneous quotes, backed by premier insurance companies, and based on accurate data sets. This approach ensures reduced risk and maximizes coverage for all shipment types.
Related Links
Lockton Companies is the largest privately held insurance broker in the world. It provides risk and insurance solutions for hundreds of transportation and logistics companies with a focus on improving your enterprise by improving risk management, not just purchasing insurance.
Lockton Website: https://global.lockton.com/us/en 
PRESS INQUIRIES 
Contact Redkik in USA
VP Sales & Marketing andy.bauer@redkik.com